How to Retain Employees and Improve Morale
Are your workers frequently going to work for other contractors or projects? Do you have difficulties in finding the right talent for open roles? Are your expert laborers working slower than your project timeline requires? Is there a lack of energy and focus amongst your team? Do you struggle with pinpointing the right skilled labor wages?
If you answered "yes" to any of the questions above, it's time to consider how the workforce has shifted and how you can improve employee retention and morale.
These are the top five adjustments you should be thinking about to keep your tradespeople on the job.
1. Competitive Wages
Pay is the most important aspect for workers considering a new job, according to the IST 2022 Skilled Trades Annual Survey. Over half of the respondents said that pay causes them to abandon working on a project.
How do you know if the skilled labor wages you're offering are competitive enough to attract and keep your best workers?
First, do your research to ensure the hourly rate is competitive in your regional market, while also considering the worker's experience level. In a MossAdams 2021 salary report, the average salary of a craftsman is 59% higher than the average reported salary for skilled workers. Once you've determined a competitive wage, layer in additional benefits such as healthcare, retirement programs, a vehicle or mileage allowance, and per-diem.
The real challenge in determining a competitive wage is that there may not be a specific dollar amount that is universally accepted in your market. Different workers will have a different perception about what is competitive, and some may feel they should be paid more than the market indicates. It's up to you to decide how and when to make exceptions, however, having done your research you'll be prepared to have those discussions.
Read our survey to discover more about what keeps tradesmen on the job.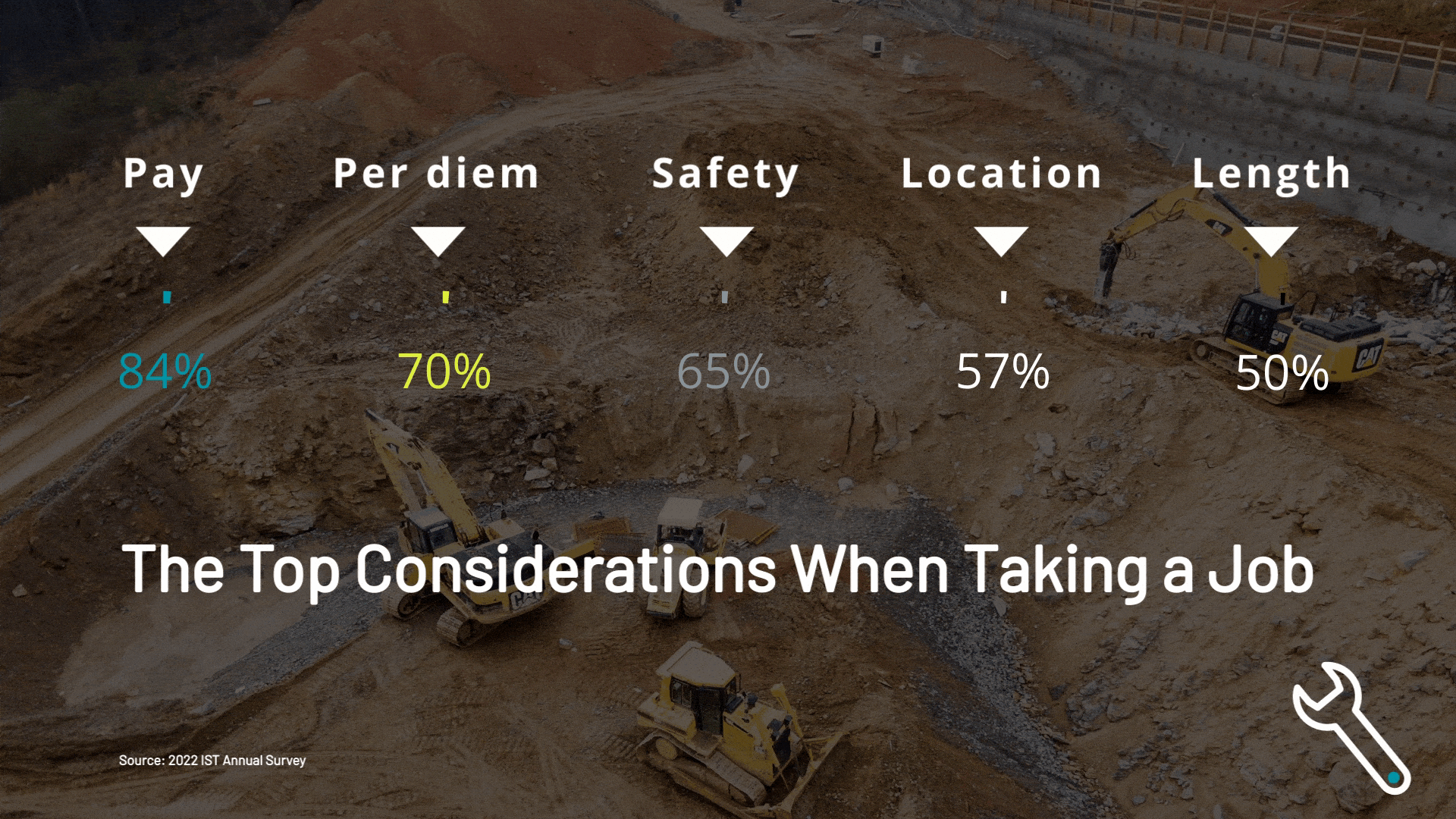 2. Safety Concerns
In the same IST Skilled Trades survey, 71% of respondents said that safety concerns would cause them to stop working on a job. Skilled laborers know that they work in high-risk environments and are constantly exposed to potential dangers that could seriously impact their future earning potential.
In order to mitigate safety risks, it is important to provide proper safety training for all employees and ensure that everyone is aware of the dangers present in their work environment.
It is also important to have a plan in place in case of an accident or injury so that workers feel confident that they will be taken care of if something does happen.
Create a culture of safety that serves the purpose of improving safe working habits and reinforces to your workforce that your company is safety conscious.
3. Supervisor Attitudes
Nobody wants to be talked down to. Especially skilled tradesmen who operate in a high-pressure, high-risk environment. When workers feel that their supervisors don't respect them or their work, it can lead to low morale and a lack of motivation.
Half of the workers report that supervisor attitudes would cause them to leave a job. In order to create a positive work environment, it is important to treat your employees with respect and show appreciation for their hard work. This can be done through things like regular feedback sessions, public recognition, and monetary bonuses.
It can be easy for a project to fall into a negative cycle where workers complain, and supervisors reciprocate with negative responses. Project Supervisors need to take a leadership role in creating a positive culture.
4. Work/Life Balance
We all know that skilled trades are demanding jobs. Oftentimes, workers are required to put in long hours or work weekends in order to get the job done. While this may be necessary from time to time, it is important to provide flexibility when possible so employees can maintain a healthy work-life balance.
This could include flexible hours or paid time off. When workers feel like they have some control over their schedule, they are more likely to be happy and productive in the workplace.
We've learned at Industrial Skilled Trades that asking about and paying attention to a worker's needs and family situation is critical to helping them build a life and career they are proud of.
5. Recognition, Value, and Development
In order to improve morale and keep skilled workers from leaving, it is important to show appreciation for their work and let them know that their contributions are valuable.
It is also important to provide opportunities for growth and development so that workers feel like they have a future at the company.
Workers report several core reasons they would stay at a company; the first being that the company values them as individuals. In addition, they reported that their accomplishments were recognized and that their professional journey was mapped out.
By providing opportunities for growth and development, skilled workers can advance in their careers and ultimately, stay longer.
Some examples of skill development opportunities:
On-the-job training
Mentoring
Traditional classes
E-learning
How we are changing the industrial skilled trades
It might be challenging to hire skilled tradespeople in an industry that continues to outgrow its aging workforce. Still, the right skilled trades staffing agency is proactively creating a deep bench of skilled, qualified tradespeople who are worksite ready. Reach out today and avoid a crisis by exploring how Industrial Skilled Trades can help you develop a deeper bench.