Is Craigslist Skilled Trades Jobs a good place for tradesmen to job search?
You've got skills. It might be as an electrician, solar installer, millwright, I & E technician, or in a number of other skilled trades. There is a big section in the popular and free Craigslist site labeled: Skilled Trades/ Artisans. There are lots of jobs listed there, but before you spend time every day trying to use it to look for work, it's important to know what problems you might encounter and how to avoid the pitfalls and time-wasters.
A simple walk-through of how the site works can give you a great idea about whether you want to use this website to find your next opportunity in the trades. Craigslist is not the only place to look online for a skilled trades position and knowing its shortfalls can save you time and frustration.
The objective of every job search on Craigslist
It's not just a simple as finding a job. Since you are coming to the construction job market at a time when skilled tradespeople are in short supply - you know that your skills are valued by contractors across the United States. You aren't just looking for a job as an electrician, or instrumentation technician, you want the best paying, best conditions, safest, and most convenient location to work. All job listings are a two-way street because they are shopping for skilled tradesmen but you are shopping for the best opportunity.
First, here's how to search on Craigslist jobs:
Even though you may conclude that Craigslist isn't the best place for you to find a job as a journeyman electrician, millwright, or solar installer, you may want to browse a little to decide for yourself.
Visit craigslist.org and start at the very top of the page by selecting the location where you want to work. Craigslist is set up to search city by city or in predefined regions. If you are a traveling tradesman, you'll want to look to the cities where you'd like to go next (perhaps Miami in the Winter?).
You can see the selected location at the top website address bar and also in the top of the center column. If you want to search for Solar Electrician jobs in California, you have to pick the cities or identified regions where you want to search, and of course, the larger the city the more jobs will be listed.
Even though there are big solar installations being built near Blythe, CA nothing comes up when you search there (it is a really small town), so I select the "Inland Empire" which is another region in California where someone might want to work.

Once you select the location, you can scroll down under jobs and select skilled trades/artisans(sometimes it says skilled trades/crafts), and jump to the screen where these jobs are listed. If you want to work as an electrician on a solar project, you can type that into the search bar.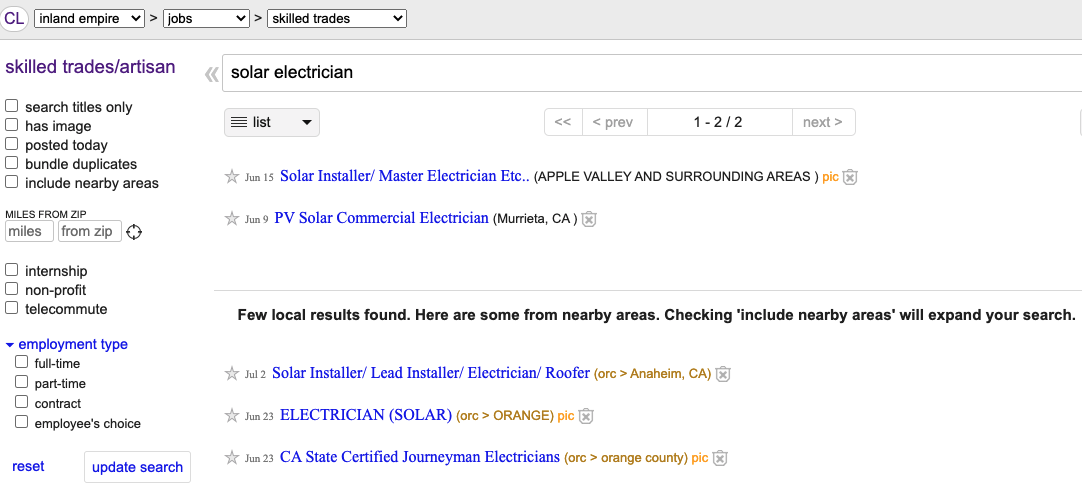 Craigslist search limits create problem #1
You will notice that even though a really large area in California was selected, where there are probably a lot of skilled trades jobs, only two positions show up. What you will find is that the more detail that you put into the search bar, the less shows up - and because the listings have almost no standard identification or job titles, jobs can show up with a whole variety of terms, and in order to find one that fits your skills and goals, you may have to search many different descriptions.
If you only search "electrician" then you see a whole page of jobs, but you have to look over each one, and then repeat this whole process for each city in which you may want to work. Some companies who post are good at describing what they need - commercial electrician, solar electrician, or residential entry-level, but most treat Craigslist likes it's like the Wild West of job listings and write whatever they want.
Additional testing on a variety of jobs in this same location came up with the following outcomes:
Millwright: 0 Listings
Welder: 17 Listings
Solar Electrician: 3 Listings the second time
Instrumentation Tech: 0 Listings
Solar Installer: 12 Listings (but one was for a warehouse position)
Project Manager: 13 Listings (but two were for something else)
Mechanic: An entire page of listings
Since switching locations will change what is displayed, you could also search another city. However, a search for Fresno skilled trades jobs, located right in the middle of the San Joaquin Valley, turned up similar numbers as the job search in the Inland Empire.
Lesson: The best approach to using Craigslist is to use simple or no search terms (electrician instead of solar electrician) and just take the time to look through them all.
While Craigslist does serve up lots of jobs, it requires lots of scanning and reading.
Having to check daily is Craigslist problem #2
The second issue with Craigslist is that these jobs change every day, and if you miss a day of looking, you may miss the job that was actually a great fit. Plus, you will have to use the exact same searches every day - so you will need to write down the exact locations and the search terms that you used so you can repeat them - daily. In this case, Craigslist is not doing the job of actually helping you look for work in the trades, it's simply showing you listings. In that sense, it is not a smart career website, but really just a jobs marketplace.
You will also need to either write down or remember which listings you already looked at so you don't spend the time to read them again. If you are considering work in a large region, that could be dozens of cities and many dozens of searches. Unfortunately, that's where the challenges lie with this approach to looking for work.
The biggest challenge is going to be the next step in the process.
Job listing response options creates problem #3
Once you find a listing that you might be interested in checking out, you have to respond to the post based upon the method that the specific job post provides. Every Craigslist post provides "reply" as one method of taking the next step. This reply button sends an email back to the person that placed the job post. If you are looking at lots of listings, that reply button is going to give the extra pleasure of passing the "Captcha" test to make you prove you are human by selecting all the dog houses or stop lights in a picture.
It will then reveal your email options. And you can copy and paste the email, hoping that you'll remember where and what the job was about in the process. If you aren't much of an emailer, and prefer text messages, you are out of luck. You can click the email links for multiple email software, but this may not work that well on a smartphone.
Other options made available based upon the specific job post may include a phone number, email, or a website address with instructions. You'll have to follow the process provided by each job post. If you are doing this on your phone, then good luck - you'll have to keep a notebook or get really good at copying and pasting in a small screen.
You have to keep track of it all - problem #4
If you are looking at 10 different cities for the best options, and you look every day, you could have a list of 50 jobs in just a few days. Each of those jobs has a different location, starting date, contact process and that might shift the job search process from something you do on a lunch break to a full-time job. It's not very practical for a tradesman who is currently on a job and looking for the next job opportunity at the same time.
This overwhelming amount of data is really a challenge for those traveling tradesmen who work across larger regions of the United States. While it is a digital tool, it's not the same as having someone look out for jobs on your behalf.
Sorting out which companies to trust, that's Craigslist problem #5
Listing a job on Craigslist is a no verification deal. The only thing you need is an email address and a way to pay the $10 to $75 fee. While the fee does keep out some scammers, these simple listings are the complete opposite of the vetting process that most employers will put you through. The first test of whether you should pay attention to a job listing in the skilled trades is which companies are providing enough information to vet them yourself.
One type of listing that you'll see looks like it was posted by a manpower coordinator sitting in his truck using his mobile phone to write the listing. It is a very short listing, doesn't provide much detail about the job, the company, or when it might start. You have to contact them to find out almost anything.
On the other hand, some listings represent a real effort on the part of the company posting them. They have a detailed job description that provides you with a lot more of what you need to know in order to decide whether you want to contact them. In the example below, they use some fancy words that only a specialized tradesman would understand (PV for photovoltaic), and they provide their website right in the first line. There is a location, hourly rate, and lots of specifics about what they are looking to hire.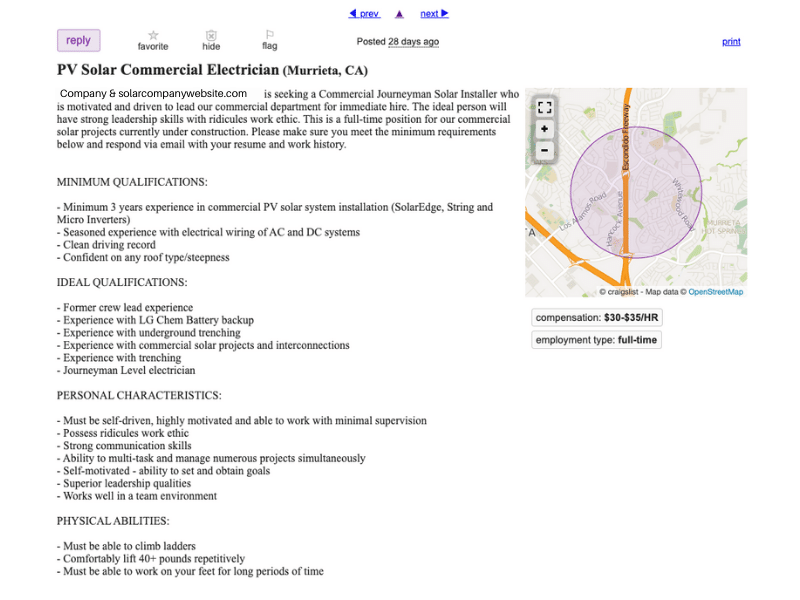 The challenge with the Craigslist skilled trades jobs approach is the fact that you have to open every job posting to discover which type of opportunity is represented. Many people in the trades are suspicious of limited information posts and suggest that these may be people just looking for a low-cost hire. Since you'll be putting your craftsmanship on display and may even travel for the job, a little thorough information in the job listing simply shows you some respect - and respect is what a skilled tradesman should demand when they consider taking a job.
Questions you should ask before responding to a Craigslist job posting:
Does the company identify itself so you can visit their website?
Do they provide enough information so that you know the level of skill they are seeking?
Do they provide detail about the kind of work they are doing or the tasks involved?
Is the work described a good fit for both your skills and your goals - is it taking you where you want to go?
Is the pay range within the realm of consideration, or is it too low to even reach out? It if seems really high, is it a real opportunity?
How long has the listing been on Craigslist? Jobs listed for a long period of time may result from poor manpower planning, difficult work conditions, or repeated walk-offs. However, sometimes it is a standing job posting because it is a big job.
Should you use Craigslist Skilled trades to look for work as an electrician, solar technician, millwright, or another skilled trade role?
How you choose to search for work when your current position is ending is a personal preference. If you enjoy the rough and tumble of searching for jobs in a Wild West-style forum and want to communicate with a lot of prospective employers and track them down every day, then Craigslist could work for you. If you want someone else to do that work and just bring you the best fit opportunities, then Craigslist may just be a place to find deals on tools.