According to Research and Markets, the construction industry will continue to expand over the next five years. With the expected post-pandemic economic rebound, residential, institutional, industrial, and infrastructure sectors will have projects underway throughout 2022 and beyond.
After the last big recession in 2008, this upturn in fortune is welcome. However, it does pose a problem.
The skilled trades temporary staffing and keeping up with increased demand is proving more complex, and getting it wrong could be a logistical nightmare and a financial disaster.
With much of your in-house communication shifting online and even remotely, your hiring, onboarding, training, and management of many moving parts will test your workforce, especially human resources.
There's a lot to consider. And hiring a temp agency is often one of the most appealing solutions.
Using a Temp Agency to Fill Skilled Trades Temporary Staffing
Imagine the scenario: You've got some big projects coming up, and you're optimistic you'll find skilled trades workers with the right qualifications, experience, and availability. You put the feelers out. And you get crickets.
The same scenario is currently playing out all over the US, as skilled trades workers are in high demand and already employed. If you have projects ongoing, you might also be contending with COVID cases, and general malaise among workers as the world wakes up.
Using a temp agency to find skilled trades workers promises temporary staff with the necessary experience, skills, and attitude to fill your bench.
But how can you be sure?
Will the workers show pride in their work?
Will they be safe and follow the rules?
Here are potential problems for hiring skilled trades temporary staff and possible solutions to hire with confidence.
Problem #1: Construction Spending is at an all-time High
According to the State of the Union, in 2020, the federal government spent $63 billion directly on infrastructure and granted an additional $83 billion in infrastructure funding to states. Spending is set to continue as America focuses on infrastructure, with new roads, improvements to bridges, railways, and ports.
Zoning, planning, and building departments have fewer barriers to breaking ground. Coupled with more public and private spending, hundreds of projects are underway, and thousands of jobs are available for skilled workers.
But how do you get the right people through the door without sacrificing standards?
Solution: Make Sure You Have the Best Recruitment Practices in Place
Taking on a project without having the right skilled tradespeople in place could land you in hot water. Many things could go wrong, from missing project deadlines, underskilled workers rushing through jobs to get to the next one, and substandard workmanship.
If you work with an agency, you know what and who you're getting. The right agency will have a deep bench of qualified and experienced tradespeople and will work with you to formulate a plan from the very beginning of your projects. The agency should be focused on the specific requirements, regulations, and skillsets needed for the particular job to meet your challenges. You wouldn't contract a carpenter to perform electrical work, so why would you hire an agency unless they can provide the specific skillsets needed for your job site?
Problem #2: The Labor Gap
The ongoing struggle of attracting workers to the construction industry is a big problem. The uptake of jobs doesn't match the ever-increasing demand for skilled trades staff.
Fewer workers are entering the trades, especially among the younger population. There is a push for more construction courses, apprenticeships, and trade school incentives. Still, the gap remains between contractors used to working with a particular demographic and the new wave of workers.
Many young people don't want to work in the trades. They cite safety concerns, lack of knowledge, misconceptions that it's a dirty job, and many simply want to work in an office environment or from home. Not to mention, the next generation will require years of on-the-job training and certifications, which can take years to acquire, to demonstrate the skills necessary for the job. As the older generation of construction workers leaves the industry, the gap widens.
Solution: Make a Career in the Skilled Trades Attractive
To lessen the gap and attract the younger generation to the industry, you need to gain their interest. Embracing technology, offering internships, and defining a career path are all paramount to attracting the younger generation.
Use an agency that can find the right workers for your niche. Ask the right questions, understand the skill level and job fit and give skilled tradespeople, especially travelers, reasons to join projects and stay long term.
Defining a clear career path for workers and training them well allows you to hire younger workers and blend them into a team of skilled laborers. Projects get completed, and new workers receive education and tangible progression paths.
If you have or are developing an apprenticeship program, agencies are a great way to try a great employee's aptitude and desire before you hire them full-time.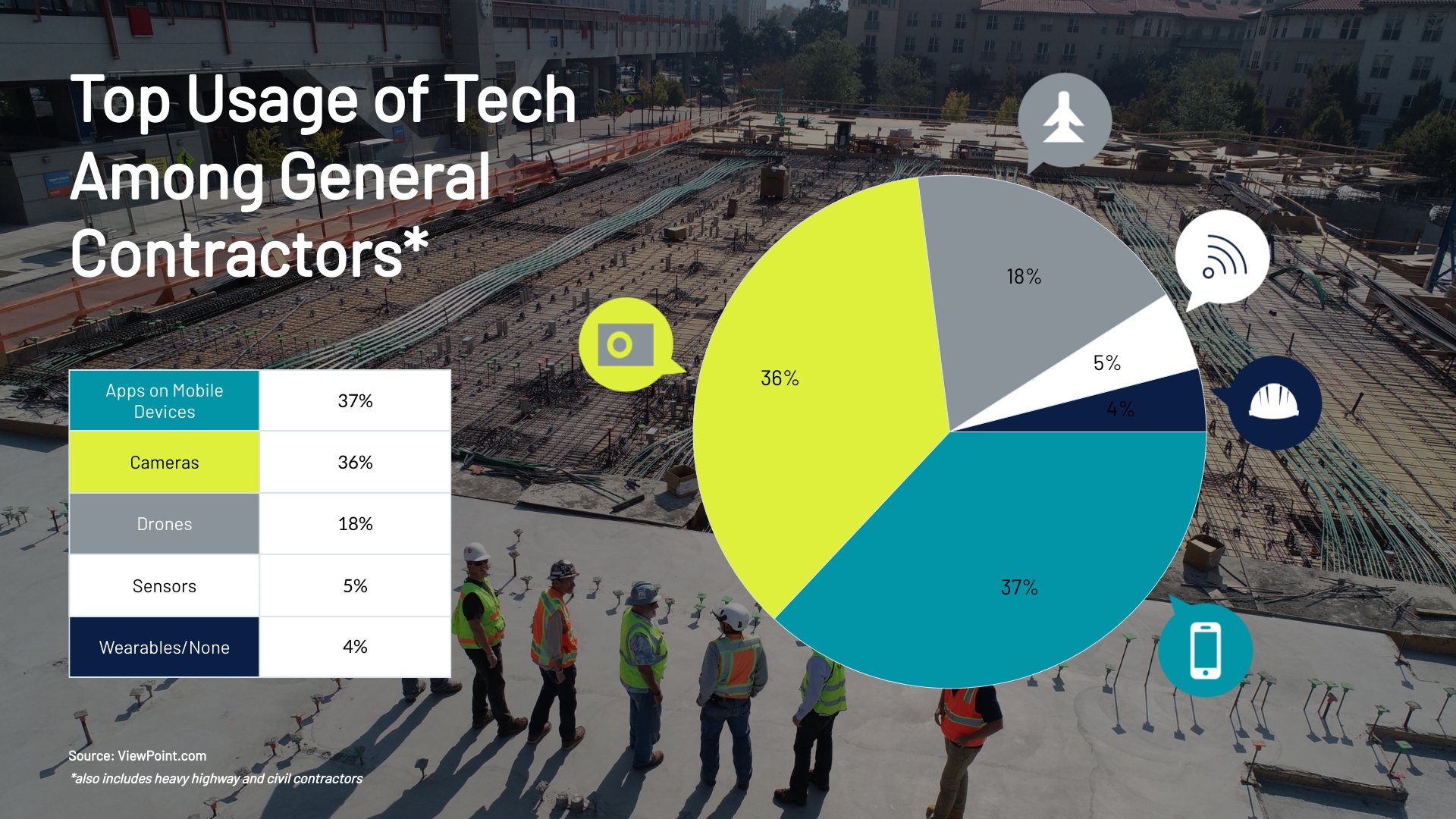 Technology in the construction industry is changing, but has room for growth.
Problem #3: Finding the Right Person for the Job
Starting a project, you might have a team of skilled tradespeople that you often rely on. But as you know, they might already be employed. By casting the net only nearby, you don't have access to a larger talent pool.
As your desperation grows, you might hire anyone who applies for the job. Construction companies tend to hire workers once a project has been secured, leaving HR departments scrambling and under pressure to search a shallow talent pool and fast.
Will the person you hire be strong in one category but not the other? Are they highly skilled but lacking in vital social and personal skills? The latter will mean they struggle to work as a part of a team, which is essential when hiring temporary staff.
Your solution might be to cast your net wider, but there are risks involved. You still might not get the people you need, and it's harder to ensure they are suitable for the project.
Solution: Get Creative
The world is very much digital. Potential employees are online, and you need to be where they are. Linkedin or Indeed can be great places to advertise to fill projects, but you can also use industry-specific job boards like Road Dog Jobs or Tradehounds to find specific workers for your job.
You can also showcase your company on social media sites. Construction workers tend to be the most satisfied and fulfilled employees, and you should shout this from the rooftops. Do you have an excellent benefits package? Health insurance? Paid time off? Younger workers are looking for a work-life balance.
On top of that, consider using a temp agency. You'll have access to a larger pool of talent who want the work, are vetted by the agency, and matched to your project. They will already know how to work in a team environment and be professional and safety conscious.
Even better, agencies work with niche industries, meaning you can find who you need more quickly.
Problem #4: Your Hiring Process is Reactive Rather Than Proactive
With the labor and skills gaps, it's almost impossible to find the right staff for an ongoing project, and as your project evolves, you'll need different people at different times.
Last-minute recruiting and project deadlines are a recipe for disaster.
It could lead to overwhelm if you lean on already overworked staff and delays if you fail to hire on time. You're also competing for a limited labor supply.
Solution: Work With an Agency Early In Your Project Cycle
The right agency will understand specific project requirements, risks, and workforce curves. Your plan should be airtight but allow for contingencies.
The right agency will help guide you and help take parts of this process off your plate.
Work together to come up with budgets, overcome obstacles, and assemble the right team at the right time.
Problem #5: Skilled Tradespeople Don't Feel Valued
Many skilled tradespeople feel blindsided by work that isn't what they were promised, and temporary contractors think they aren't treated with respect. It's challenging to walk into an alpha male-dominated environment and embed yourself into a team.
Temporary staff is also often the last person on the job, but the first to go, and contracts aren't flexible enough. As more industries move toward flexible working hours, can the construction sector keep up?
With less contract flexibility, temporary staff won't have control over where they go next.
Solution: A Trades Community
There are many positives to working with an agency that matches tradespersons with suitable projects. The agency is transparent with the workers about pay, benefits, and specifics of the job.
They offer support to workers around travel and job-site curveballs, and they consider the lifestyle of the workers. When do they want to work? Where? Do they want temporary contracts with different companies?
Being able to answer these questions shows potential employees that you value them.
Bottom line: when you find a worker you like, treat them like it! Overcommunicate, treat them with respect, and consider their life circumstances as you map out their work and projects.
Workers should not be transactions, but your most important asset.
There are Solutions to Problems With Skilled Trades Temporary Staffing
Many challenges face the construction industry as we exit the pandemic. Still, we can see this as an opportunity to hire the best people for the projects you take on rather than talking about skills and labor gaps.
Tradespeople with skills and experience are out there, but having a plan is paramount. Working with an agency will help you carry out that plan and ensure you have backup resources in place.